Empires and Allies(Facebook) officially closed June 17th, 2013, however it reopened as a mobile game. Click here for the new game.
Welcome to the Empires & Allies Wiki!
Where Users Contribute Their Knowledge of Empires & Allies

For The Benefit of The Community.

We have 4,134 articles and 2 active editors in the past 30 days.

Empires & Allies Wiki May reveal campaign plots
and spoilers about the game. Read at your own risk!
Quick Links
| | | | | | | | | | |
| --- | --- | --- | --- | --- | --- | --- | --- | --- | --- |
| | Wikia Chat: | | Wikia Admins: | | Game Questions: | | Wikia Forums: | | Game Updates: |
| | | | | | | | | | |
Extra Content
Unreleased •

Characters •

RewardVille •

Squad-Bonus •

Island Resources

Journal •

Neighbors •
Inventory •

Campaign Missions •

Pillage Rewards

Research Facilities •

Parts •

Damage Calculator •

Neutrality •

Bonus Meter

The Dark Alliance •

Leaderboards •

Defense Towers •

Construction

Bonus Packs •
All Units •

Unbuildable Units •

Game Cards •

Charity Events

Weapon Centers •

Depots •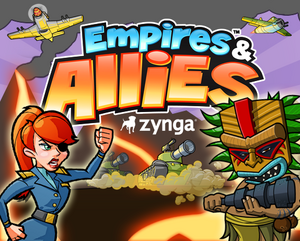 Recent Blog Posts
Create blog post
Blogs
I can't seem to find any advice for troop combos, so I'll write one here. (Note: I am an HQ 8 and thus don't know about any combos above that level)

O…

Read more >

If you guys remember me, I was one of the admins that was around during the times of the old E&A...Though disappeared whenever it came to the final w…

Read more >

Hey guys

Can anyone please give me a download for the game, the old one

Read more >
See more >