Note: Select the tab for the expansion type your looking for.

Expanding in Empires & Allies is done by purchasing small chunks of land at a time. All Expansions cost Coins and Liberty Bonds. Liberty Bonds can be earned by winning Campaign battles, Free Gifts or by completion of Goals. The Coin cost & liberty bonds increases for each Expansion the player purchases. There are a total of 196 expansions. hidden
Note: Select the tab for the #Num of expansion your on.
Fixed cost expansions is an option to purchase for

various Empire Points depending on the #num of expansions a player has.
The table below shows the requirements for fixed cost expansions.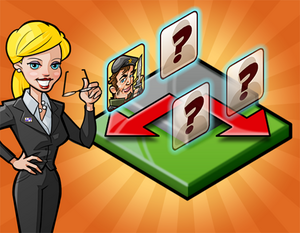 Crew-able Expansions will require a player to have a certain amount of Population and hire up to 12 friends (varies on #num of expansions you have) to fill slot positions before they can expand their empire.
Once a player has the 12 slots filled the other expansion options are disabled until you expand your crew-able expansion.
Upon using your crew-able expansion, costs for regular expansions are increased just as they would expanding the regular way.
Slot positions will be available again for a player to hire friends and continue expanding there crew-able explanations.
The table below shows the requirements for crew-able expansions.
| #num Expansion | Pop Needed | Staff Needed | EP Per Slot |
| --- | --- | --- | --- |
| 0-1 | 500 Pop Needed | 5 Staff | 2 Empire Points |
| 2 | 700 Pop Needed | 5 Staff | 3 Empire Points |
| 3 | 850 Pop Needed | 6 Staff | 3 Empire Points |
| 4 | 1,000 Pop Needed | 6 Staff | 3 Empire Points |
| 5 | 1,200 Pop Needed | 7 Staff | 4 Empire Points |
| 6 | 1,400 Pop Needed | 7 Staff | 4 Empire Points |
| 7 | 1,600 Pop Needed | 7 Staff | 4 Empire Points |
| 8 | 1,800 Pop Needed | 8 Staff | 4 Empire Points |
| 9 | 2,000 Pop Needed | 8 Staff | 4 Empire Points |
| 10 | 2,200 Pop Needed | 8 Staff | 5 Empire Points |
| 11 | 2,400 Pop Needed | 9 Staff | 5 Empire Points |
| 12 | 2,600 Pop Needed | 9 Staff | 5 Empire Points |
| 13 | 2,800 Pop Needed | 9 Staff | 5 Empire Points |
| 14 | 3,000 Pop Needed | 10 Staff | 5 Empire Points |
| 15 | 3,250 Pop Needed | 10 Staff | 5 Empire Points |
| 16 | 3,500 Pop Needed | 10 Staff | 5 Empire Points |
| 17 | 3,750 Pop Needed | 11 Staff | 6 Empire Points |
| 18 | 4,000 Pop Needed | 11 Staff | 6 Empire Points |
| 19 | 4,250 Pop Needed | 11 Staff | 6 Empire Points |
| 20 | 4,500 Pop Needed | 12 Staff | 7 Empire Points |
| 21 | 4,750 Pop Needed | 12 Staff | 7 Empire Points |
| 22 | 5,000 Pop Needed | 12 Staff | 7 Empire Points |
| 23 | 5,250 Pop Needed | 12 Staff | 7 Empire Points |
| 24 | 5,500 Pop Needed | 12 Staff | 7 Empire Points |
| 25 | 5,750 Pop Needed | 12 Staff | 8 Empire Points |
| 26 | 6,000 Pop Needed | 12 Staff | 8 Empire Points |
| 27 | 6,250 Pop Needed | 12 Staff | 8 Empire Points |
| 28 | 6,500 Pop Needed | 12 Staff | 8 Empire Points |
| 29 | 6,750 Pop Needed | 12 Staff | 8 Empire Points |
| 30 | 7,000 Pop Needed | 12 Staff | 8 Empire Points |
| 31-39 | 7,250 Pop Needed | 12 Staff | 8 Empire Points |
| 40+ | 7,250 Pop Needed | 12 Staff | 10 Empire Points |
Galley