Defenses protect your base from other players from getting away with your valuable resources. They are also used in preventing you for doing the same with someone else's resources.
Base Defenses
Edit
The most basic defensive structure is the Guard Tower.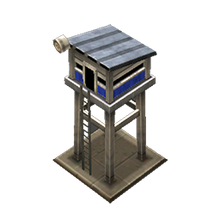 Other defense structures include: the Domed Defense, Artillery, Patriot, Landmine, Metal Rain, Shock Mine, Railgun, Walls, and the Rally Flag.
Strike Force
Edit
The defensive strength can be increase by applying a Strike Force to the building.